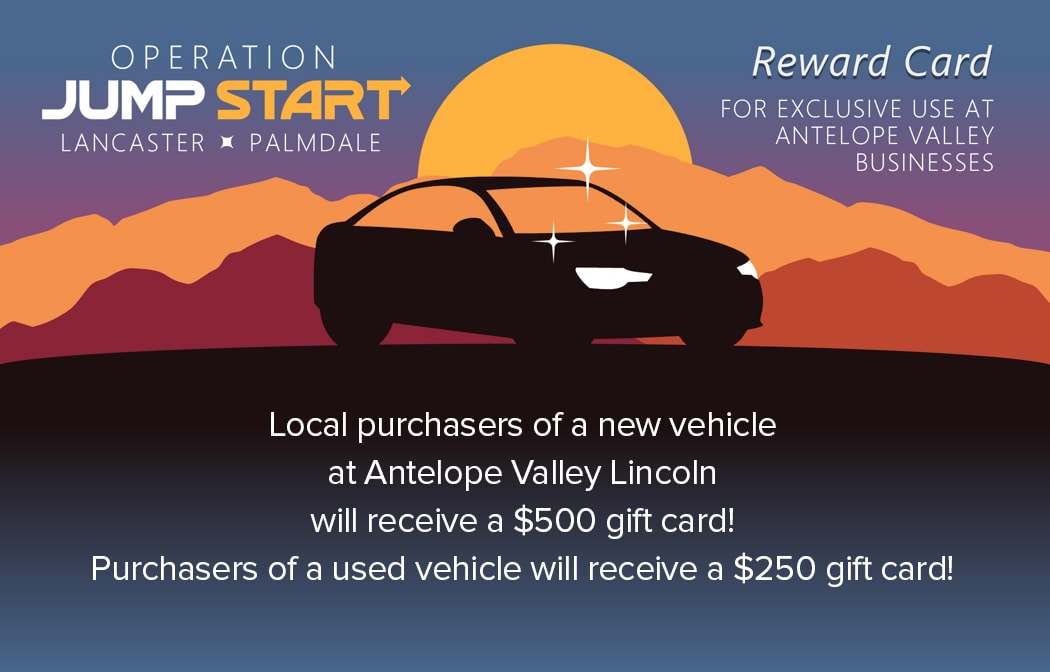 BUY A NEW CAR OR SUV AT AV LINCOLN AND RECEIVE A
$500 GIFT CARD FROM OPERATION JUMP START
BUY A USED CAR, TRUCK OR SUV AT AV LINCOLN AND RECEIVE A
$250 GIFT CARD FROM OPERATION JUMP START
It's not a secret that COVID-19 has had a devastating impact on our national economy. Now, the Antelope Valley is looking toward recovery. The Cities of Palmdale and Lancaster are joining forces on two collaborative efforts targeted to boost the local economy and improve safety on local public transit.

To assist Antelope Valley businesses impacted by the COVID-19 pandemic and subsequent closures that began on March 15, 2020, the cities have launched "Operation Jump Start," an economic stimulus program where local purchasers of a new vehicle at the Lancaster and Palmdale Auto Malls will receive a $500 gift card. Purchasers of a used vehicle will receive a $250 gift card. Cards will be eligible for use at businesses valley wide.

All of us at Antelope Valley Lincoln are happy to work hand-in-hand with the Cities of Palmdale and Lancaster to aid local residents and businesses. Through innovative solutions and partnerships such as these, the Antelope Valley will emerge from this crisis stronger than ever before.
Contact Antelope Valley Lincoln for details about this amazing Antelope Valley program.
JUST ADDED!
In support of the Palmdale-Lancaster "Operation Jump-start", spend your qualifying auto retailer gift card at any AV Mall merchant & get an AV Mall gift card FREE*!
Spend your $250 auto retailer gift card, get a $50 AV Mall gift card!
Spend your $500 auto retailer gift card, get a $100 AV Mall gift card!
Please see AV Mall Guest Services for details: Monday-Friday  2pm-7pm  |  Saturday 11am-7pm  |  Sunday 11am-6pm
*Offer valid from June 1, 2020 while supplies last, to the first 125 customers only. Must have ID. Exclusions apply. Limit one (1) redemption per person.
*VISIT AV MALL GUEST SERVICES FOR FULL DETAILS AND ENTIRE DISCLAIMER INFORMATION